Now that I've got my new floors, how should I keep them protected?
You've invested a lot of money into selecting the floors that are right, for you.  Naturally, you want to take good care of your new floors, with a product that will keep your furniture from scuffing up that beautiful new design.
What's the best solution??
FLEXI FELT!
This stuff works great!  Different shapes and styles to choose from.  Let us help you pick out the Flexi-Felt that's best for your home.  Visit us in store to find the right product for your home.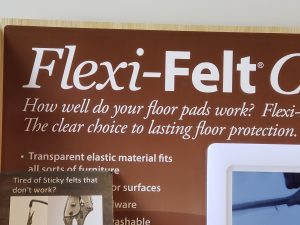 Visit our Showroom, today!
#1 – 1790 Kingsway Ave
Port Coquitlam, BC
V3C 1S5
604-475-7600
Showroom Hours:
Monday – Friday => 10:30-6:30
Saturdays => 10 – 4
Closed => Sundays & Holidays