Laminate is an excellent choice for any part of your home. They have high moisture resistance, quick installation and an endless variety of style choices.
Benefits of Laminate Flooring for Your Home
Laminate flooring Can Help Fight Bacteria
Laminate flooring is naturally resistant to the growth of mold and bacteria.
They can be treated with special allergen resistant & anti-bacterial coatings to make them even safer.
Laminate Flooring is Easy to Clean
Laminate Flooring is Versatile
All the floor pieces are interlocked, or adhered to one another. That means the material can expand, or contract, due to changes in pressure and temperature, without buckling and snapping against the sub-floor.
Laminate flooring can simulate the look of dozens of other natural hardwood material variations. The printing process can also reproduce the appearance of a variety of natural stone, and ceramic flooring materials. With the innovated printers they are not a far fetch from the real hardwood, even including different textures.
The wear layer of a laminate floor protects the material from stains and some spills, which makes cleaning and maintenance relatively easy. Typically, the only regular requirement is sweeping or vacuuming the floor to remove grit and dirt.
Laminate Flooring is Well Protected
Laminate flooring is resistant to many of the outdoor agents that can discolour other flooring materials. The wear layer protects it from stains and smudges due to dirt and mud, making it a great material for hallways and entryways. It also resists fading from UV light exposure, making it popular in sun rooms.
Laminate Flooring Can Handle Moisture
Additionally, most laminate flooring is great at handling moist environments where hardwood flooring would be unacceptable. This makes it a perfect flooring option for damp basements.
Laminate Flooring is Easy to Install
With the exception of carpet, laminate flooring can be installed over almost any existing floor in the home.
As long as a moisture barrier is in place and water prevention measures are taken it can also be installed at any grade. This removes the hassle and expense of having to remove old flooring installations before installing new laminate materials.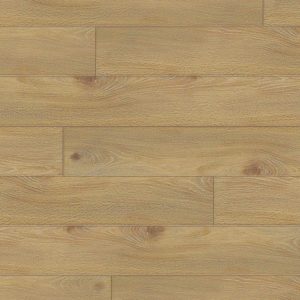 Laminate Flooring Availability
Laminate has a wide variety of options and is an excellent choice with a great price. Laminate flooring is usually a wood based product that's got an authentic look  similar to engineered wood.
There are variations of colours and styles. The colour scheme has everything from white to grey and of course the original neutral tones.
Laminate prices are the cheaper avenue to go.  Great for a basement suite.  Although, they can be very loud if you put them on an upper flooring level.  For this reason, many people are switching over to vinyl planks. Compared to real wood, laminates are definitely the cheaper option. Plank sizes also vary and come from narrow to wide.
Typically our laminate flooring selections include options from brands such as Kraus, Pravada, Pontec, and Beaulieu (most of which are Canadian companies).
Contact us, we'd love to help you plan your new laminate flooring, design.
Request a Quote