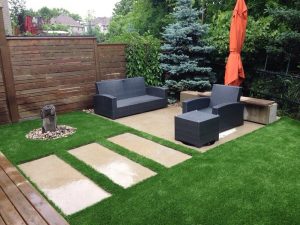 Synthetic grass provides the best combination of low maintenance and exceptional aesthetic appeal.
The latest technology allows synthetic grass to breathe and allows for great durability throughout the changing Canadian seasons. Whether rain, snow, or sunshine, our line of synthetic grass was designed from the ground up, to last.
Primary benefits of landscape turf include:
Quick and easy installation
Low maintenance (watering, mowing, fertilizing)
Reduced animal/rodent damage
Fine zoning control
Plus, the latest manufacturing processes and breakthroughs have produced a result that is superior to what you may have expected from turf in previous years. In-turn, these innovations have produced a grass that is:
Resistant to both heat, frost, and UV exposure
Does not emit any harmful particles into the environment
Highly durable
Non-flammable
Once you see it for yourself, it's hard to back a good argument for a high maintenance lawn of the past.
Contact us today to find out more.
Contact us, we'd love to help you plan your new synthetic grass, design.
Request a Quote