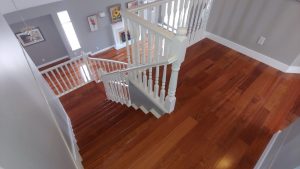 Engineered Hardwoods:
Engineered Hardwood Floors range from widths of 3-7 inches wide and in thickness from 3/8 – 3/4″ they also come in a wide variety of domestic and exotic hardwood species.  Hardwoods are available in popular hand scraped styles. Some brands of Engineered Flooring have a thin wear layer that can only be re-coated and cannot be sanded or refinished to look new again, once they get worn. They have an average lifespan of between 20-30 years depending on foot traffic.
At Multi Flooring Inc, we offer styles with a wear layer of up to 4 mm thick that can be completely sanded and refinished if they ever need to be. Thicker wear layer, Engineered floors can last from 40 – 80 years before having to be replaced, which add to their appeal. Not to mention, increase the value of your home.
Click Lock Engineered Flooring
Click Lock Engineered Floors are becoming a more and more relevant trend in the Engineered Flooring market. Click locking Engineered boards have special tongue and groove systems that simply lock together, forming a tight seam and a seamlessly smooth appearance. Click lock, floating Engineered floors require absolutely no glue during installation and just float over a foam or cork underlay.
Biggest Benefits of Engineered Hardwood Flooring
Below is a list of the main benefits Engineered Hardwood Flooring can provide for your home renovation project.
Engineered Floors are easy to clean and they are pro allergies.
Most floors are scratch and scuff resistant, as well as radiant heat approved.
A large selling point of Engineered Hardwood Floors, are the resistance to higher moisture levels than solid wood flooring.  This adds to their appeal for use in damp basements or in regions of the country that have higher relative humidity levels.
Engineered Hardwood has a Wide Range of Design and Style Choices
Each Engineered Hardwood Floor has a unique design and look. Engineered Hardwood is available in a variety of woods like, oak, mahogany, maple birch and more. Floors have a range of colours to suite everyone's taste. There are traditional wood styles and newer innovational colours, to choose from. Traditional classic dark and light browns are always in style and match with any decor. Then, there are the newer colours such as grey, white, or even black – if you're looking for more of an exotic or designer look.
Engineered Floors also have a variety of plank sizes. Sizes range from narrow to wide.  There are boards ranging from, 3/4 " to 48" planks.   Wider boards are becoming increasingly popular and are more easily available.
This type of flooring has a variety of finishes too. Some floors are smoother and coated, whereas other floors have a more natural or rugged look, unfinished or oil coated.  Prices for Engineered floors can range, but start from around $3.75 per square foot.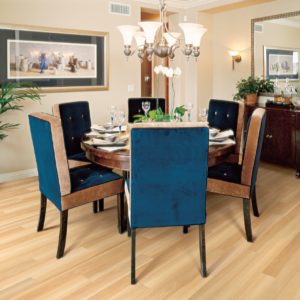 Engineered Hardwood Flooring is Durable
Engineered Hardwood, is a durable product that will last a lifetime. It has an elegant look to suit any room and works in any home. Engineered Hardwood has a beautiful authentic finish with a wide variety of options, to make sure our customers find the perfect floor.
Engineered Hardwood is Easy to Install
Engineered Flooring can be directly glued-down over concrete slabs, above or below grade, or stapled down over a wood subfloor. In Engineered Hardwood Flooring, glues and materials used for middle and bottom layers define whether the floor is non-toxic and eco-friendly. Their middle and bottom layers are made of solid wood, and are bonded by high quality non-toxic glues.  They are equal, in their eco-friendly characteristics to solid hardwood. Engineered wood is also a sustainable product that's renewable and they increase the value of a home in comparison to carpet.
Engineered Hardwood Installation Overview
We offer complete installation services for any flooring, including old floor removal. Engineered Hardwood can be installed in several ways. First, there is the glue down method, which is most common and recommended. There are also floating (click floors) or nail down options.
To install Engineered Hardwood Floors, the subfloor needs to be dry and level. Baseboards are also recommended when installing Engineered Hardwood Flooring. After the installation is complete, your new floor is certain to look stylish and elegant.
REAL HARDWOODS:
With Hardwood Flooring you are not stuck with a certain colour or shade because all hardwood typically has different natural patterns. This means no two pieces of Hardwood Flooring are exactly alike.
This type of flooring is tough, strong, and even if you put or drop something heavy on the floor, you do not have to worry about it getting dented or scratched.
With Hardwood Floors, if you are tired of the colour, you can sand and refinish them several times.
Hardwood Flooring Adds Value
If you decide to sell your home, Hardwood Floors will increase the value of your home and help the home to sell faster. It is very versatile and can be used with any type of décor or style.
Hardwood Flooring Hides Small Scratches
Hand-scraped wood flooring, with deeper grooves, hides the small dents and wear that can come from active families and pets.
Hardwood Flooring is Long Lasting
Wood can last hundreds of years with proper care and periodic refinishing. It doesn't hold on to allergens that can sink into the fibers of carpet.
Contact us, we'd love to help you plan your new hardwood flooring renovation.
Request a Quote