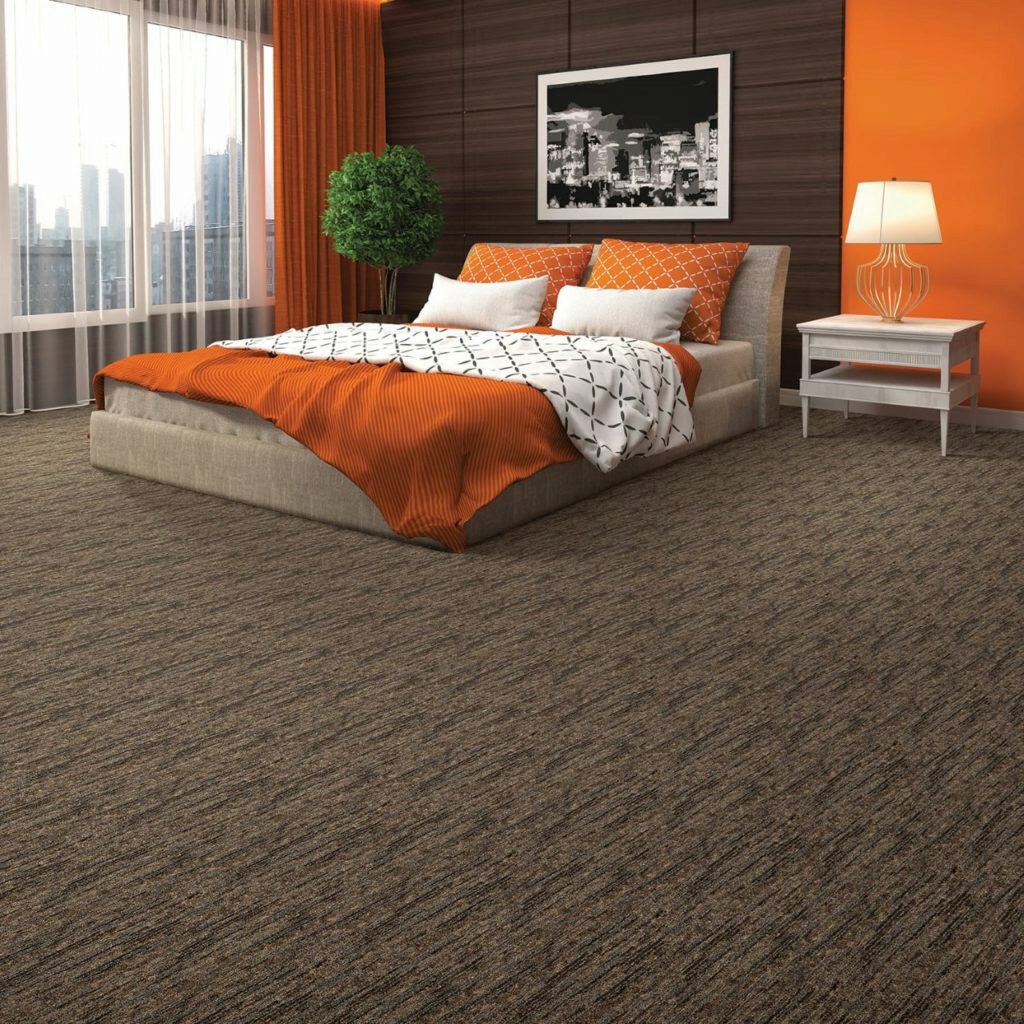 Carpet is a very common product due to its warmth, durability, and ease of cleaning. It's good for all home styles, but especially for homes with young children or the elderly.
Carpet's easier, faster and cheaper to install than wood flooring, which must be nailed down, glued or clicked into place. It's life can be extended, with frequent vacuuming and by steam cleaning once a year. Be aware that it may stain and become matted over time.
Main Benefits of Carpet Flooring for Your Residence
Below are the main benefits/advantages of carpet flooring for your home or office.
Carpets Provide Warmth and Comfort

Carpet provides actual thermal resistance, or R-value. In colder climates or seasons, it retains warm air longer, an energy conservation benefit. Carpet also provides a comfortable place to sit, play or work and gives a room an overall warmer feeling.

Quality Carpet Flooring Adds Beauty and Style

You can choose from many thousands of carpet styles and colours. That means your ultimate choice will reflect how you want to personalize your living space. Carpet can be a neutral foundation, or it can be a focal point with vibrant colours.  Stronger bolder patterns and textures, are another benefit to carpeting. A top-quality carpet can last about 10 to 15 years.

Carpets Help Soften Slips and Falls

Carpet is ideal for cushioning our footsteps. It is great for reducing slips and falls; while also minimizing injuries, if a fall does occur. Carpet provides safety protection for the whole family, especially for toddlers and more senior individuals.

Carpet Flooring Helps Reduce Noise

Big screen TVs, speaker phones, computers and modern sound systems make our homes, noisy places. Carpet helps absorb these sounds. Adding a cushion pad beneath your carpet reduces noise even further. Carpet also works as a sound barrier between floors by helping to block sound transmission to rooms below. Carpet on stairs helps mask the sound of constant foot traffic.

Carpet Flooring Actually Helps Keep the Air Clean

Many people say they'd rather have laminate because it is cleaner; but that is untrue because carpet traps the dirt making it easier to clean just by vacuuming. It actually acts as a passive air filter, trapping dust, pollen and other particles, while removing them from the breathing zone.

Studies have shown that people with asthma and allergy problems have seen symptoms improve with carpet.

Carpet is One of the Lower Emitters of VOC

Eco-friendly people choose carpet because it is the lowest VOC emitter of common floor choices, and requires fewer cleaning chemicals than other floor coverings. CRI's Green Label Plus standard has brought those VOCs down even more. In addition, carpet improves indoor air quality by trapping allergens and other particles, so they can easily be vacuumed away.

Carpet Flooring is Easily Maintainable

Overall, carpet will maintain it's life and beauty for many years when properly cleaned and maintained. In terms of both labour and cleaning supplies, carpet saves you money over the long run.
Carpet Tiles:
Carpet tiles have been around for over 50 years and were originally developed for homes as a hard wearing alternative to traditional broadloom carpet. Carpet tiles offer many advantages over traditional broadloom and make designing your own themes, easy. Recently, there have been some great new designs introduced. Interior designers, makeover programs and interior magazines are increasingly presenting carpet tiles as a new design trend.
Advantages of Carpet Tile Flooring
Below are the main advantages of carpet tile flooring, which is quickly becoming one of the top sellers in our Port Coquitlam showroom.
Carpet tiles are easy to clean
If a tile is damaged, you can simply replace the tile rather than the whole floor. Easy to lift and take with you if you move home, particularly if you are renting.
Installations can be done in small areas or as a temporary solution – you can even work around the furniture rather than empty the whole room.
Benefits of Carpet Tiles
Carpet tiles are a new trend in designing your floor scheme. They offer many advantages over traditional carpet and are easy to install. Carpet tiles are very cost effective because they do not require underlay or any adhesives. They are just as easy to clean as regular carpet by vacuuming everyday dust and dirt.
Main Carpet Tile Advantages:
Easy to install because they can lay on top of laminate, vinyl, and concrete
No need for underlay
Fit easily in many different shapes of rooms
Offer a new look to carpet (different colours and shapes)
If they get damaged they're easy to replace because you can just remove the tile rather than the whole floor
They aren't permanent so if you were planning on moving you can take them with you
Cost effective because they do not require underlay or adhesives.
Contact us, we'd love to help you plan your new carpeting design.
Request a Quote